Creating Adorable and Fashionable Sims 4 Kids with Maxis Match CC
Sims 4 Kids with Maxis Match CC
Introduction
Creating unique and stylish outfits for your Sims 4 kids can be a fun and exciting way to personalize their appearance and enhance their gameplay experience. Using Maxis Match CC (Custom Content) allows players to add a wide variety of clothing, hair, and accessories to their child Sims, making them even cuter and more fashionable. In this guide, we will explore different types of Sims 4 Kids CC, including clothing, hair, and accessories, to help you create the perfect look for your little ones.
Clothing CC for Sims 4 Kids
Adrienpastel Calipso Dress – Kids Version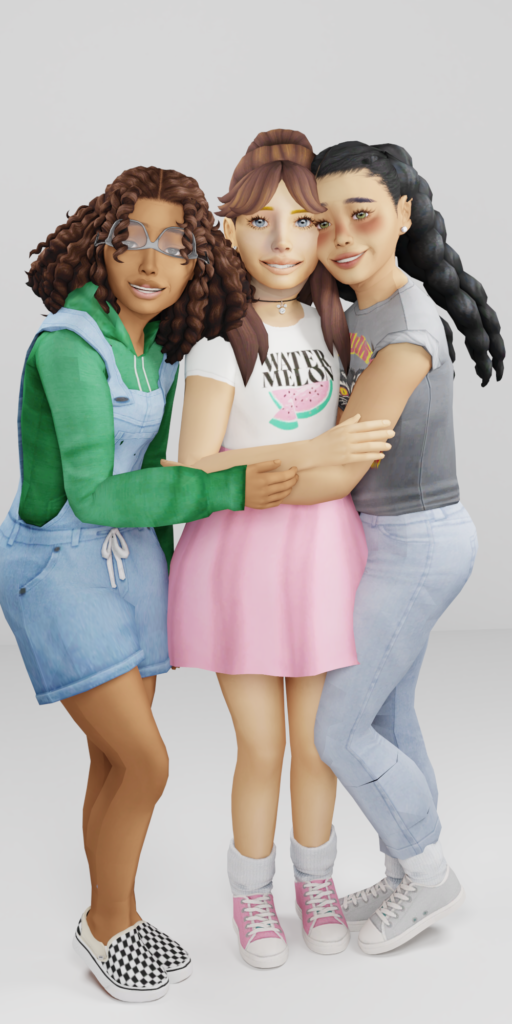 Maxis Match CC for Sims 4 Kids Clothes
Dress your Sims 4 kids in adorable and fashionable outfits with the help of Maxis Match CC.
Find a variety of stylish tops, bottoms, dresses, and outerwear for your child Sims.
Discover cute and trendy CC options for both boys and girls, allowing you to create a unique style for each child.
Child Clothes Sims 4 CC
Expand your Sims 4 kids' wardrobe with a wide range of custom clothing options.
Choose from various styles, including casual, formal, and seasonal outfits for every occasion.
Utilize CC to create themed outfits, such as superhero costumes or princess dresses, to add an extra layer of fun to your gameplay.
Kid CC Sims 4
Accessorize your Sims 4 kids' outfits with stylish CC accessories, such as hats, scarves, and backpacks.
Customize their look further by adding jewelry, glasses, and other small details.
Experiment with different combinations to create a unique and personalized style for each child.
Hair CC for Sims 4 Kids
In the Sims 4, players have the ability to customize their Sims' appearance in various ways, including their hairstyles. With the addition of Maxis Match CC (Custom Content), players can further enhance the appearance of their child Sims by adding a wide range of hairstyles specifically designed to match the game's art style.
Maxis Match CC refers to custom content that is created to seamlessly blend with the original art style of the Sims 4. This means that the hairstyles available in this category will look like they belong in the game, rather than standing out as separate or mismatched.
When it comes to child hair CC, there is a plethora of options to choose from. Boys and girls alike can experiment with different styles, lengths, and textures. For those looking for a classic and clean look, there are various short hair options available. These hairstyles can range from simple pixie cuts to trendy bob cuts.
On the other hand, if players want their child Sims to have longer hair, they can explore a variety of options in this category as well. Whether it's flowing locks or elegant braids, there are numerous long hairstyles to choose from. These can add a touch of sophistication or a whimsical charm to the child Sims' appearance.
Additionally, the Maxis Match CC for child hair also offers curly hairstyles. These can range from loose waves to tight curls, allowing players to create a diverse range of looks for their child Sims. Curly hair can add a playful and carefree vibe to their overall appearance. ts4 child cc
One of the exciting aspects of using Maxis Match CC for child hair is the opportunity to experiment with different hair colors. Players can match the hair color to their child Sims' personalities or try out vibrant and unique shades for a more creative look. This allows for customization that reflects the individuality and uniqueness of each child Sim.
In summary, the Sims 4 Child Hair CC Maxis Match provides players with a wide range of options to enhance their child Sims' appearance. From short to long, curly to braided, there are hairstyles available for every style preference. The ability to customize hair colors adds an extra level of creativity and personalization to the child Sims' looks, making them truly unique in the game.
Sims4 Child CC
Find CC hair for Sims 4 kids that suits various ages and personalities.
Experiment with different hair textures and styles, from sleek and modern to wild and untamed.
Use CC to create hairstyles that reflect your child Sims' individuality and enhance their overall appearance. child clothes sims 4 cc
Accessories and Miscellaneous CC for Sims 4 Kids
Add cute and stylish accessories to dress up your Sims 4 toddlers with Maxis Match CC.
TS4 Child CC
Explore a variety of CC options for Sims 4 children, including backpacks, toys, and jewelry.
Customize your child Sims' appearance and enhance their personality with unique accessories.
Experiment with different combinations to create a look that is truly one-of-a-kind.
Conclusion
With the help of Sims 4 Kids CC, you can create adorable and fashionable looks for your child Sims that reflect their individuality and enhance their gameplay experience. From clothing and hair to accessories and miscellaneous items, the possibilities are endless. Use Maxis Match CC to unlock a whole new world of creativity and style for your Sims 4 kids. Dress them up, give them unique hairstyles, and accessorize their outfits to make them stand out in the virtual world. Start exploring the Sims 4 Kids CC world today and watch your little ones become the fashion icons of the game.