Barbie and the Secret Door (2014) Gallery
Barbie and the Secret Door (2014) Gallery
Barbie and the Secret Door (2014) Gallery
What would you do if you could open a door that lead to a unique and unrivalled world where a mermaid, a princess and a fairy unite to save the magic kingdom? In this new Barbie movie, Alexa, the protagonist is a princess whose passion is reading, cause with the books can live incredible adventures; one day while walking through the woods is her castle, discovers a door that nobody had ever noticed before, a door which immediately surprises her and decides to open it.
Princess Alexa is a normal girl, whose hobby is reading all the time. She lives a bit overwhelmed by her royal duties and knows that Mr. Primrose, strives to make it a refined princess. Alexa needs to prepare for the prom that year after year takes place at the castle, but she does not like waltz and she prefers having fun with her friends.
One day the grandmother of Alexa, a noble and nice woman, gives the princess a book, a book that has never read. Alexa started reading and goes into the adventures of the book. She imagines what it would do if she had magical powers: she would fly, she would convert all the things, she would draw her life with laughter and fun. All could be reality! All the dreams come true!
At that time Alexa enters a magical world that is exactly like the book she is reading, full of magical beings and never-before-seen surprises. A musical adventure begins here where evil is also present through Malucia evil, a bad ruler who wants to steal the magic of the earth. Barbie and the Secret Door (2014) Gallery
Alexa meets Romy and Nori, a mermaid and a fairy; and between the three of them, will unite to defeat Malucia. Alexa discover that she posses magical powers and in the company of her new friends will always achieve what they want. Join Barbie in this new adventure and also you enter the secret door. You will never forget this experience!! Barbie and the Secret Door (2014
) Gallery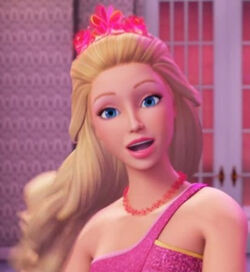 alexa a shy princess